Your favourite resin art supplies
Shop Epoxy Resin, Pigment Pastes, Glitters, Mica, Chameleons & much more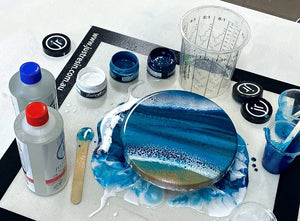 Resin Colour Palettes
Save yourself the time of trying to find the perfect combination of colours - we've done the work for you!
Resin & Resin Art Supplies Australia
At Just Resin, we have everything you need for your resin art projects, from Epoxy, Pigment Pastes & Powders, Polymer Clays to Resin Tools, Silicone Moulds and Accessories. We even offer bulk orders for those who are looking for larger quantities. If you're a beginner or experienced, our range of resin art supplies is designed to meet all levels. At Just Resin, our aim is to be your local Australian go-to supplier for all your resin art supplies. Shop today for all your resin needs at Just Resin!